WeedLife News Network
Hot off the press cannabis, marijuana, cbd and hemp news from around the world on the WeedLife News Network.
Three pals out for a late-night, cannabis shopping spree had their fun cut short when police stopped them for breaching COVID-19 lockdown rules and then learned what they had been buying was a bit of weed.
The trio — all in the same vehicle, but all from different households — was busted on the night of Jan. 22, according to the Island Echo. All were fined for breaching health regulations and one man was also cited for possessing a controlled drug.
The wish-list purchase did nothing to convince the Hampshire Constabulary officers that the men needed to be outside during COVID-19. All three were ordered to pay £200 ($348).
The coronavirus "is spreading fast. Do not leave your home unless necessary. One in three people who have the virus have no symptoms, so you could be spreading it without knowing it," notes information from the U.K. government, which has also issued video messages emphasizing the need to stay home.
"Robust enforcement action should be taken as required, where blatant breaches in public places or private premises are reported to us," Maggie Blyth, assistant chief constable for the Hampshire Constabulary, said in a statement after the national restrictions were reintroduced.
A 2019 study published in The Journal of Pain found that cannabis use was associated with 64% lower opioid use in patients with chronic pain.
Although opiates are meant to be a temporary tool, millions of Americans have not been able to kick opiate dependency after being prescribed it. With an estimated 10.3 million Americans using opiates in 2018, that's almost 4% of the country's population. Due to this, it is imperative to find an alternative in the world of pain management. 
Many promising studies have been done using cannabis with opiates or as a replacement for them, including a December 2020 survey. This research focused on the effects of cannabis and opiates used together. However, as explained by the survey, research on medical cannabis is severely limited by cannabis's status as a Schedule 1 substance. Because of this, physicians are unable to give concrete advice to patients. Thus, patients heavily rely on medical dispensaries when choosing cannabis, as doctors are legally and informatively limited.
With the outsider status of medicinal cannabis, research is often performed through surveys. The December survey included analysis of 525 responses out of 1181 responses given (656 either did not use opiates for 3 months to treat their pain or did not use cannabis and opiates together). 

Photo by Roxana Gonzalez/EyeEm/Getty Images

Regular marijuana users tend to know how to get high efficiently. Still, accidents happen. Here's how to fix them.
Seasoned marijuana users don't tend to stumble into bad highs or a bong that smokes poorly. These people tend to be ready when it's time to smoke, having all of the necessary tools to get high as smoothly and efficiently as possible. Still, accidents can happen, ruining your moment to get high and forcing you to look for alternatives when you'd rather do anything else.
Here are 5 of the most common problems that pester marijuana users, and how to fix them:
Running out of weed

Photo by Elsa Olofsson from Pexels

Smoking weed and then running out of it is a thing that rarely happens unless you're distracted by other people, or keep your stash stored in different places (why?). It's terrible either way. Luckily, in this day and age, you can just order some more online. And while you may have to wait a bit and loose some of that exciting buzz, the losses aren't that great. You can stay in your couch and wait comfortably in your pajamas.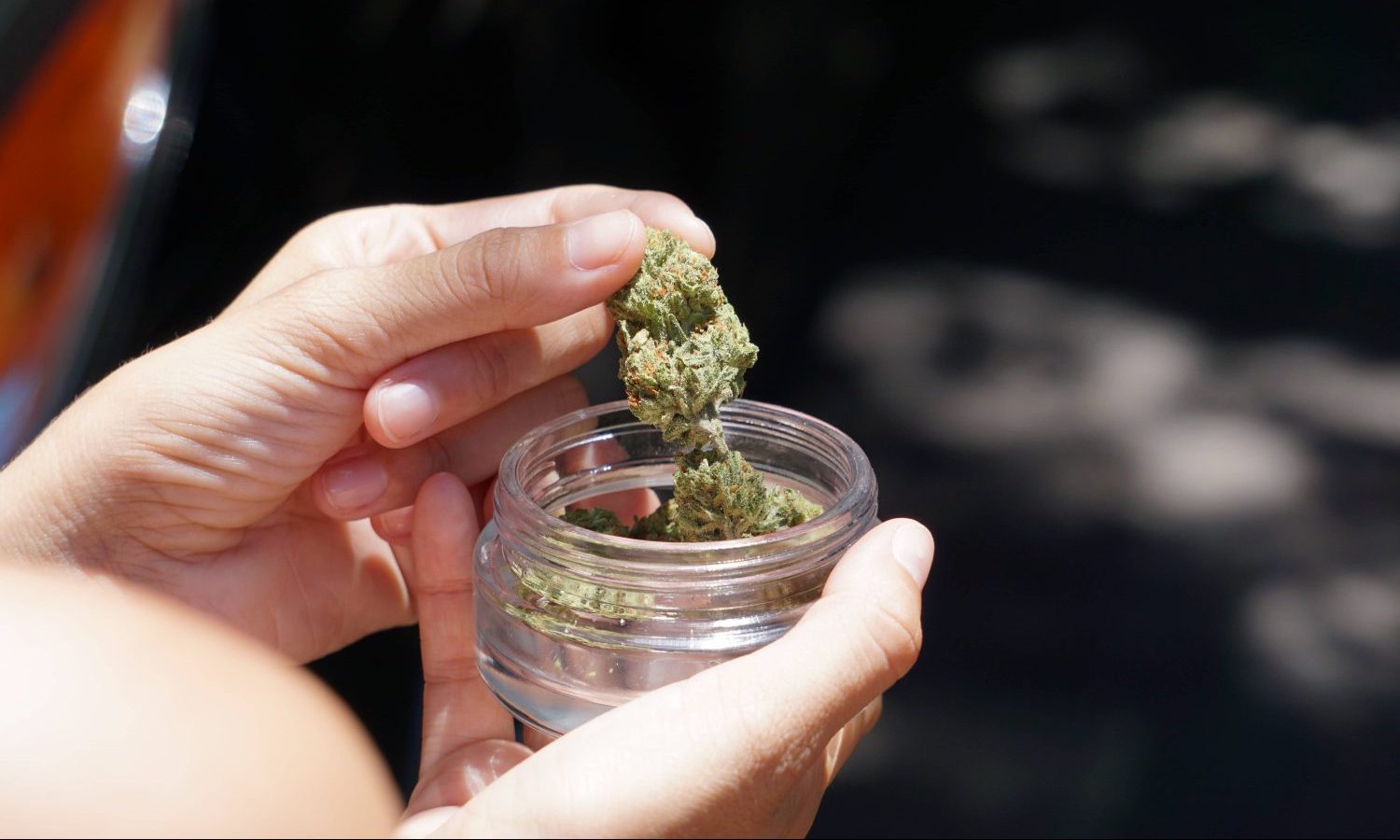 Though it's increasingly legal, marijuana can still raise red flags for life insurance companies. While some insurers don't mind covering you if you use pot, others will charge you higher rates or deny your application outright.
About 22.2 million Americans use marijuana every month, according to the Centers for Disease Control and Prevention. It's now legal for medical use in 36 states and for recreational use in 15, as well as for both in Washington, D.C.
If you're one of the millions of Americans who use marijuana and you're looking for a life insurance policy, you can probably find coverage. You may need to shop around, however, as companies don't view the risks that weed poses to long-term health in the same way.
In a word, yes, you can get life insurance if you use marijuana. In fact, life insurance may not cost more for some marijuana users than for those who don't use it at all — depending on the insurance company and other factors.
Every insurer measures risk differently. Most consider factors like age, gender, weight and family health history. Some might look at your hobbies, such as mountain climbing or skydiving. Your history of drug use, whether marijuana or otherwise, can also come into play.
The price of marijuana can change significantly from state to state. Here are some factors that could have an influence on the final price tag.
Cannabis is gaining more and more traction across the United States, with each passing election approving new medical and recreational programs in various states. If you've never been to a marijuana dispensary, or if you've been to several and have noticed significant price fluctuations, it's easy to wonder why this happens and whether there's a price standard that the industry follows. Short answer: there's not.
Marijuana prices can vary a lot, depending on the place where you live, the type of product you're purchasing and its quality. Since cannabis remains federally illegal, there's not a fixed price tag that dispensaries must follow, with every state demanding different things of product makers and impacting the final price of their product.
Here are some of the most important factors that can have an influence on your cannabis price:
Location
Photo by Patrick Tomasso via Unsplash
With the state strapped for cash, some Hawaii lawmakers are considering legalizing recreational marijuana. Despite years of similar measures being shot down, some of the state's top house leaders have signed on this year.
The bill would allow people to have up to an ounce of cannabis. It would also create a process for cultivators to grow and sell marijuana which would then be taxed by the state. State house representative Jeanne Kapela and other lawmakers KITV4 spoke with Friday, believe the move could generate at least $150 million in revenue for the state at a time when the state is in desperate need of money.
"This bill is a bill that will legalize marijuana and tax it that way we can utilize that revenue for essential services which right now in the middle of this budget shortfall are being cut. We should not be furloughing teachers, we should be generating revenue and utilizing this opportunity to allow people to do something that they've already been doing and making sure we are no longer going to disproportionately harm the working poor or Native Hawaiian," Kapela said.
The bill passed first reading this week and is waiting for a potential hearing. Important to note, Governor David Ige does not support the use marijuana for leisure.
Aloha Green Apothecary has two locations on Oahu, spokesperson Ty Cheng says they see up to 400 people with medicinal cards per day. If it's legalized, he believes the dispensary will see three times more local clients.
From spicy "happy" salads to soups sprinkled with cannabis shoots and deep-fried marijuana leaves — a Thai hospital restaurant has rolled out a weed-inspired menu which has curious customers flocking to sample its euphoria-inducing offerings.
Since becoming the first Southeast Asian country to legalize medical marijuana in 2018, Thailand has ploughed ahead on the extraction, distillation and marketing of cannabis oil — eager to capitalize on the multibillion-dollar industry.
The plant itself was finally removed from the kingdom's narcotics list last month, which means licensed providers — like hospitals — can now use its leaves, stems and roots in food.
This marks a return to Thailand's culinary past, said doctor Pakakrong Kwankhao, who heads the Centre of Evidence-based Thai Traditional and Herbal Medicine in Chao Phya Abhaibhubejhr Hospital.
"Putting cannabis leaves in the food is our culture," she told Agence France-Presse Friday.
Arizona officials on Friday approved the first 86 licenses for marijuana dispensaries to sell cannabis to adults for recreational use.
The Arizona Department of Health Services said six other applications submitted since the process began Wednesday remain under review.
The approved sites can start selling marijuana for recreational as soon as they are ready, according to an ADHS spokesman.
Fifty-six of the newly licensed dispensaries are in the Phoenix area.
In November, Arizona voters approved Prop 207 to legalize sales and possession of 1 ounce or less for non-medicinal purposes for people ages 21 and up.
Utah's first medical cannabis couriers have started hand-delivering orders to the homes of patients, a promising development for people who face daunting drives to the nearest marijuana pharmacy.
The service is starting small at first. WholesomeCo, the company that is trailblazing cannabis home delivery in Utah, has hired 10 couriers that can cover Salt Lake, Utah, Tooele, Weber, Cache, Summit and Wasatch counties.
But Chris Jeffery, WholesomeCo's chief executive officer, says his goal is to go statewide within six months so that patients who are medically fragile or who live long distances from the nearest pharmacy have a better option for getting their cannabis treatment.
"We deal with patients that are terminally ill, have [multiple sclerosis] or some condition that makes it hard for them to get out of bed," said Jeffery, whose company grows medical marijuana and operates a cannabis pharmacy in West Bountiful. "Those patients need access to their home because they literally cannot leave their home."
One Salt Lake County patient — who declined to give her full name because of the stigma around cannabis — said her health conditions put her at high risk for COVID-19, and she's felt uncomfortable going to pharmacies during the pandemic. She hasn't even been to the grocery store since April.
"So when I got the email alert that they were going to start doing delivery, I was the first one to sign up," said the patient, who was expecting a WholesomeCo courier at her home Wednesday.
Another patient, Jordan Bartholomew, said he doesn't have a car and gets around largely by bicycle, so it's been challenging to find time to visit a cannabis pharmacy.
"Having delivery makes things a lot more comfortable for me," said Bartholomew, who lives in Salt Lake City's Ballpark neighborhood and uses cannabis to treat chronic back pain.
State lawmakers
 in 2019 adopted the legal framework for a home delivery system
, and while WholesomeCo is the first to take advantage of it, Utah officials expect other cannabis companies will soon follow suit. Rich Oborn, director of the state health department's Center for Medical Cannabis, said he hopes the couriers ease the challenges of rural residents who live hours from one of the state's pharmacies.
(Trent Nelson | The Salt Lake Tribune) Sarah Stokes prepares deliveries of medical cannabis for customers of WholesomeCo, in Bountiful on Wednesday, Jan. 20, 2021.
Dragonfly Wellness, which 
operates a Salt Lake City pharmacy
, is also getting ready to roll out its delivery service and several other cannabis retailers have plans to follow suit, Oborn said.
"I think the major question is, will they offer it to the entire state?" he said.
Oborn said the he hopes courier services will expand to reach all corners of Utah to "ensure that people in every county in the state have multiple options from which they can order medical cannabis."
Desiree Hennessy, head of the Utah Patients Coalition, agreed with Jeffery that the home delivery option will be critical for patients who can't easily get to a pharmacy.
(Trent Nelson | The Salt Lake Tribune) Medical cannabis at WholesomeCo, in Bountiful on Wednesday, Jan. 20, 2021.
"I have blind patients that I talk to and multiple different disabilities that make it so they can't drive," she said. "And so for those patients, this is huge, the fact that this is a way they can get their medication without relying on family or friends to go pick it up for them."
However, she noted that many Utahns will have to wait a while longer for cannabis couriers to reach their community.
"The frustration is there's just not more of it," she said of the delivery option.
WholesomeCo began taking delivery orders on Wednesday and started transporting orders to patient doorsteps the next day. Since then, they've been handling about 20 orders each day but plan to scale up to about 200 orders each day in the next few weeks.
Jeffery said patients who live within WholesomeCo's service range can place their orders online and choose an available delivery time for as soon as the following day or up to six days in advance. Under state law, the patient must be at home when the courier arrives to accept the cannabis order, and WholesomeCo even photographs the customer's identification to make sure the package ended up in the right hands.
The company is charging a fee of $15 per delivery at present but will likely adjust this amount as they expand their coverage area and get a better sense of the costs, Jeffery said.
"We have to make sure that we're not losing our tail on delivery," he said. "But we're going to try to keep that fee as low as possible. ... Hopefully, we can continue to decrease that price over time."
In addition to serving patients who aren't able to leave home or live in remote locations, home delivery is almost an expected convenience in an age when many medications are shipped straight to people's doors, Jeffery said. He and a few colleagues at WholesomeCo had past experience with a mobile food ordering at a company called OrderUp and understood the complications of coordinating these services, he added.
"Delivery is obviously in my wheelhouse," he said.
Because of that, the state has worked closely with WholesomeCo in launching the state's first cannabis home delivery, he said.
Rate this article: 
Select ratingGive Utah's first cannabis home deliveries roll up to patient homes 1/5Give Utah's first cannabis home deliveries roll up to patient homes 2/5Give Utah's first cannabis home deliveries roll up to patient homes 3/5Give Utah's first cannabis home deliveries roll up to patient homes 4/5Give Utah's first cannabis home deliveries roll up to patient homes 5/5
From the last couple of years, the demand for cannabis products has been bombed. Scientists have proved the amazing benefits of this powerful plant. 
CBD acts as a non-psychoactive way to treat various mental issues like anxiety. Many people use CBD products regularly but are not seeing any effect of cannabis for improving their anxiety. Remember, the reason is not cannabis but the way you are using it. There could be two common mistakes like too much CBD consumption, buying the wrong product. These blunders may be becoming a big hurdle from getting effective results. Let's know these mistakes to see the real benefit of CBD. 
Going With Cheap Quality Products
One of the common mistakes that many people make is not choosing the right product.
Users purchase cheap quality products to save some bucks or sometimes are not aware of less reputed brands in the market. Therefore, to get the best quality, you need to choose high-quality products? But how to choose the right quality products is a matter of concern for new CBD users. Therefore, keep in mind certain factors;
Check out whether the product is made from a local source of organic hemp or not. It will save you from buying pesticide-contaminated products.Choose a product that is undergone with a 
CO2 extraction method
 rather than petroleum processing.Check whether the CBD products have been lab-tested before selling. It will ensure that you are choosing the right product from a reputable vendor. 
Sometimes it could be hard to get a quality product that can meet the guidelines mentioned above. But once you choose a product, it will help minimize anxiety and other symptoms. 
The events of recent months – which, at no risk of ambiguity, will not be discussed here – have created something of a roadblock for nearly every industry that was, just twelve months ago, thriving in the global marketplace. 
Not least among those industries is the world of travel and tourism which, on both a local, national and international level, has ground to a halt for nigh-on twelve months. 
There are plenty of ideas swirling about the best ways to restart the world of travel when circumstances allow, and forecasts for how that side of life will have changed for good. The notion of harnessing the new freedom surrounding marijuana usage holds plenty of potential for the industry, and offers an exciting new normal for millions of people. Read more below. 
RELATED: Canna-Tourism Company Curates Trips for Influencers
It Began at the Heyday of Commercial Air Travel
Of course, the notion of cannabis-related tourism is nothing new – it is, in reality, the driving force behind the sheer quantity of strains we now have today. 
Sales of 1-gram cannabis flower packages tumbled in multiple North American marijuana markets last year, likely related to consumers who shopped less often because of the COVID-19 pandemic but made larger purchases when visiting a dispensary.
The shift away from 1-gram packages offers implications for both retailers and producers trying to keep up with shifting consumer preferences sparked by the pandemic. Despite the shift, the single-gram flower format – the smallest, cheapest size of marijuana bud available on the market – remains relatively popular in terms of unit sales. That suggests consumers haven't given up on the package size altogether.
Nevertheless, the downward slide in 2020 readily is apparent in point-of-sale data from Seattle-based cannabis data-analytics firm Headset.
"I think that one of the big reasons that we see grams trending down is as a result of COVID," said Liz Connors, Headset's director of analytics.
Connors said the 2020 trend toward fewer sales of small cannabis packages mirrored broader trends in consumer packaged goods during the pandemic.
America has a bad case of pandemic anxiety.
COVID-19 infections are rising.
Tens of millions of workers lost their jobs and face dismal prospects of getting new ones.
There is no end in sight.
Anxiety has gone mainstream and so has marijuana.
No one has died from a marijuana overdose and there is no evidence of anything more lasting than embarrassment. That certainly is not the case with alcohol.  
Disclaimer: The views expressed in this article solely belong to the author and do not necessarily represent those of The Fresh Toast. 
The pandemic has produced a number of social changes that we hope may last. An online Harris Poll sponsored by marijuana company Curaleaf found that 45% of cannabis consumers age 21 and up have replaced or reduced their alcohol consumption with marijuana since the beginning of the coronavirus pandemic, and one-third of those who use cannabis recreationally prefer cannabis to drinking alcohol. 
Half of the respondents (50%) said they increased their use because cannabis helped them relax, and 48% said they did so to help them sleep. Of those who said they use marijuana recreationally, a third (33%) said that they prefer cannabis over alcohol.
Interestingly, parents are actually turning to cannabis at higher rates than those without children. Think of the children!  
There have been a considerable amount of studies done on different cannabinoid formulations, not just on CBD.  The studies focused on all kinds of areas that could impact you at work, including memory, computer or telephone skills, even driving skills.
We don't know exactly which cannabinoid causes any type of concerning problems surrounding any of these issues. The products that were tested in these settings were formulations. They were combinations of multiple different cannabinoids. It is possible that CBD could have an effect in any one of the places where all of these different cannabinoids impacted people. It's worth keeping in mind and exercising a significant amount of caution so that you do things properly and safely at your workplace; you want to maintain an excellent work environment for yourself.
We used to think that people who used cannabinoid formulations regularly had ongoing difficulties with their memory and IQ. But in fact, further studies have shown that there's really no significant changes in IQ.
Studies on CBD and work
It was initially a British study that suggested a drop in IQ of seven points when people used cannabinoids regularly. But then a subsequent New Zealand study said that there was actually no significant change in IQ. There was a US study finally done that was very well done. It had almost twice the number of people studied than either the New Zealand or the British study. The US study also had a number of identical twins. One of whom was using cannabinoid formulations and one of whom was not. In the identical twin pairs, there was no change in IQ.
The U.S. study involving several thousand people is our best research today to say that there is no impact on IQ with the use of cannabinoid formulations. However, significant heavy use of cannabinoid formulations can lead to changes in memory. Again, we don't know which cannabinoid is implicated in this. It is possible that some people could see changes in their short term memory capacity with high dose usage or high serving sizes of CBD.
Hemp is one of the most talked about ingredient in the beauty industry. When it comes to skincare the many benefits of hemp or hemp seed oil makes it's a hero ingredient. It contains a very little cannabinoid, a compound often used for therapeutic purposes and help in soothing the skin and relieving inflammation. Along with essential fatty acids, hemp oil contains vitamins, minerals, and amino acids which improves skin's health. Nowadays the buzzy ingredient is taking over the world of beauty and skincare, from hand cream and facemask to body oil, creams and cleansers, there is an array of hemp-infused products popping up in beauty supply stores everywhere.
Plabita Sharma, Beauty Training Manager, The Body Shop India lists down the top five benefits of hemp induced skincare products:
Good for sensitive to super dry skin: One of the many benefits of hemp induced skincare product is that it has been found to have significant soothing properties. Its substantial skin-soothing and skin-normalizing effects can help minimize issues related to skin sensitivity, dryness including redness and reactivity. Since all skin types are affected daily by environmental stressors, hemp seed oil soothing mechanism can help and keep everyone's skin in check.
Rich in Antioxidant: Hemp seed oil is a rich source of antioxidant and helps in promoting repair and rejuvenation of skin. It can also protect the skin from environmental damage, such as over-exposure to sunlight which can accelerate premature sign of aging like fine lines, dark spots and more.
Promotes clearer skin: Acne is a most common concern for oily skin however incorporating a skincare product enhanced with hemp oil could mean the difference between pimple-ridden skin and a clearer complexion. Hemp oil is perfect for most skin types as it can moisturize without clogging your pores. It can even help to balance out oily skin, hydrating it and regulating the skin's oil production. Dryness can also cause your skin to overproduce oil, which in turn, can stimulate acne. Hemp oil can prevent dry skin without clogging pores. This helps reduce acne that's caused by excess oil.
As more sporting organizations reform their approach to drug testing, U.K. Anti-Doping (UKAD) has announced it is retrospectively shortening the bans for athletes who are suspended due to recreational drug use, reports Inside the Games.
As of Jan. 1, 2021, U.K. athletes who test positive for substances like cannabis and cocaine while out-of-competition will face three-month suspensions rather than two-year bans. The suspension could be reduced to one month if the athlete completes a treatment program.The changes bring UKAD in line with the World Anti-Doping Agency's rules.
UKAD chairman Trevor Pearce toldInside the Games that a three-month ban will only be applied to athletes who test positive while out-of-competition. "If an athlete can't prove that the drug use was out-of-competition and unrelated to sports performance, they may receive up to a four-year ban," Pearce said.
As for athletes currently suspended over the previous rules, their suspensions will be amended to reflect the changes.
Scottish runner Luke Traynor is one of seven athletes who will now be eligible to return to their sports earlier than anticipated.